"If mothers are happy in childrearing, society will be a brighter place" – this is the slogan by which Natsumi Sakai, member of the Koto City Assembly, leads her incredibly busy life. As a midwife and nurse, she had been working for mothers and families at childbirth for 12 years. Natsumi Sakai made her decision to run in the election around the time she became a mother, after battling cervical cancer and the fertility treatment that followed. We will trackback her story of numerous trials and decisions behind her uncompromising vision and compassionate eyes.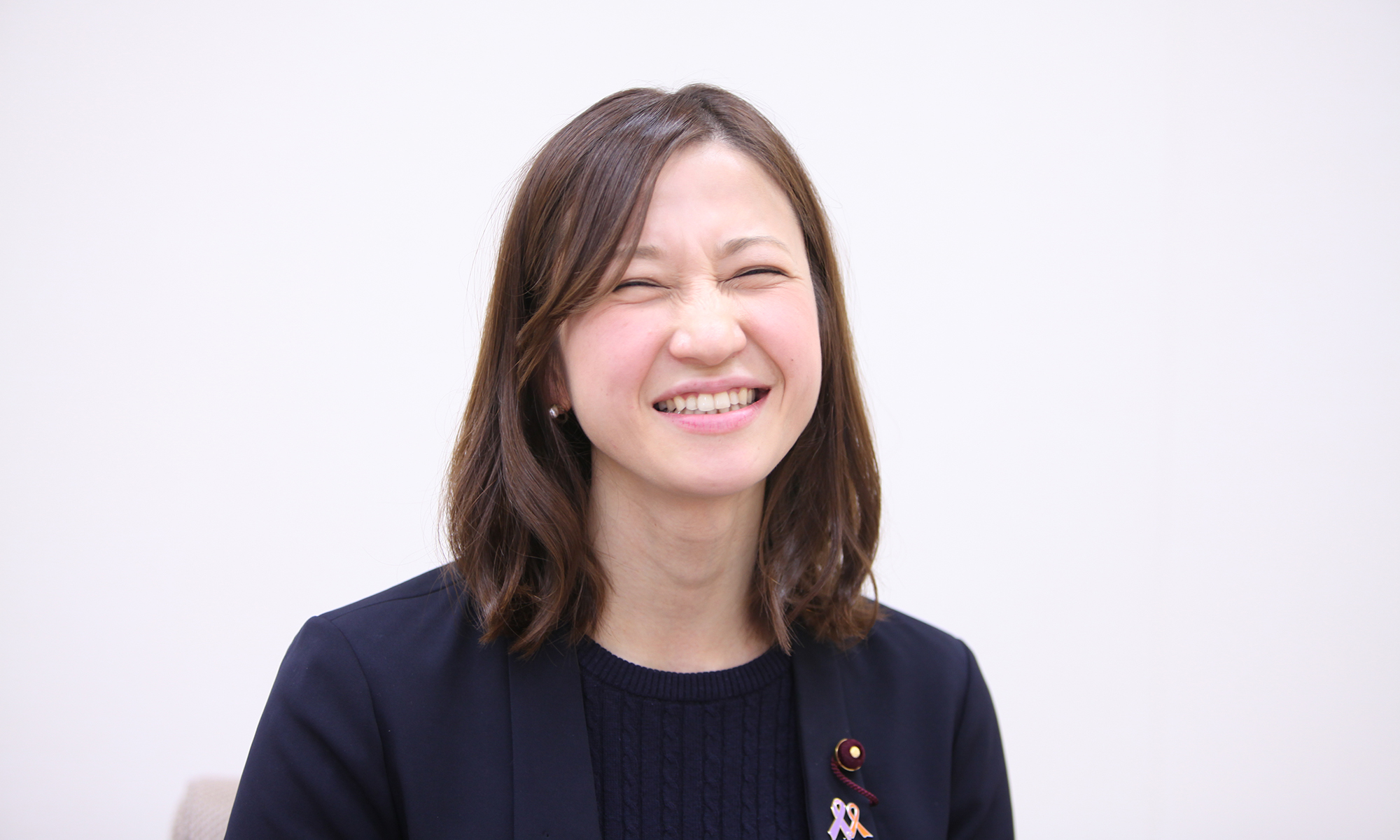 Natsumi Sakai  member of Koto City Assembly
Born in Kitakyushu-City, Fukuoka Prefecture in 1986. After graduating from Jiyugaoka High School, majoring in nursing, she started her nursing job in an obstetrics and gynecology department in Nishi Tokyo City. In 2010 she was licensed and started working as a midwife. She is a certified Baby Food Advisor of the Maternal and Child Nutrition Association.
In 2013 Natsumi started her new life in Tokyo's Koto City after marrying. That same year, she also started a new career as one of the first staff members of the prenatal center of the newly opened Showa University Koto Toyosu Hospital. There, she experienced delivery assistance, nursing from pregnancy to postpartum, neonatal care, childcare consultation and guidance, as well as nursing for patients with gynecological issues. She was then transferred to a women's outpatient department, where she was in charge of consultation for women with obstetrics and gynecology as well as clinical oncology issues, pregnant women, and consultation for breast cancer patients.
In 2014, Natsumi was diagnosed with cervical cancer. After surgery and chemotherapy, she went back to work while still on sick leave. She then went through fertility treatment, miscarriage, and threatened premature delivery. She finally gave birth to a daughter in 2017. When her daughter was 8 months old, she returned to work. She was elected for the first time in the 2019 election for the Koto City Assembly and is now in her first term. She enjoys yoga and baking in her free time.
---
Diagnosed with cancer: "I might not be able to give birth"
  In pregnancy and childbirth, it cannot be taken for granted that a new life will come into the world.
― We'd like to first talk about your career path until you got married. You were born in Fukuoka Prefecture. Did you move to Tokyo for work?
Yes. I grew up with my parents, grandmother and my two sisters. When I finished nursing school, I got a job in Tokyo and moved there on my own. I worked as a nurse in the obstetrics and gynecology department in a hospital, and later on, I was qualified as a midwife.
Originally, I wanted to work in this particular department. So I remember enjoying my dream job there. For the next 12 years, I focused completely on obstetrics and gynecology.
― What made you aim for obstetrics and gynecology?
I've always liked children. Also, I was so inspired by a lecture on Maternal-Newborn Nursing Care by a midwife at nursing school. She told us: "If mothers are happy in rearing children, society will become brighter, for sure." I was so moved by that. And I felt enlightened right then and there.
Her words still guide me to this day. I even held them as my slogan 10 years after the lecture, when I decided to run in the election.
― You have kept your conviction unchanged all these years. Is the midwife's role in ob/gyn mainly supporting birth?
Midwives are only involved in the birth through supporting mothers when they are on duty on the day of delivery. But they also provide care for babies in the newborn nursery, caring for pregnant women at risk of premature birth or imminent miscarriage, and providing care before and after ob/gyn related surgeries.
In this particular department, you have the privilege to witness a new life coming into this world. But on the other hand, it is not always filled with happiness. I saw mothers, whose baby's heart stopped beating. Some women decided to abort the child due to unwanted pregnancy…and women who were deeply hurt by sexual abuse or rape.
― I see…I understand. You have been supporting women with so many different backgrounds and circumstances.
I have often dealt with my inner-conflict. Have I made the right decision in nursing them? It was especially hard when I was taking care of women who had lost their babies in utero during their second trimester. I couldn't hold myself and sometimes cried with them.
By engaging in support during pregnancy and childbirth, I have come to realize that new life coming into the world should not be taken for granted. Nevertheless, it was rewarding to support the lives of women in various situations.
One time, a woman contacted me through Facebook. She went through a stillbirth in the middle of her pregnancy and I was the one who was supporting her. She sent me a message, saying she was devastated at that time but now she is carrying a child again. I was filled with joy and gratitude.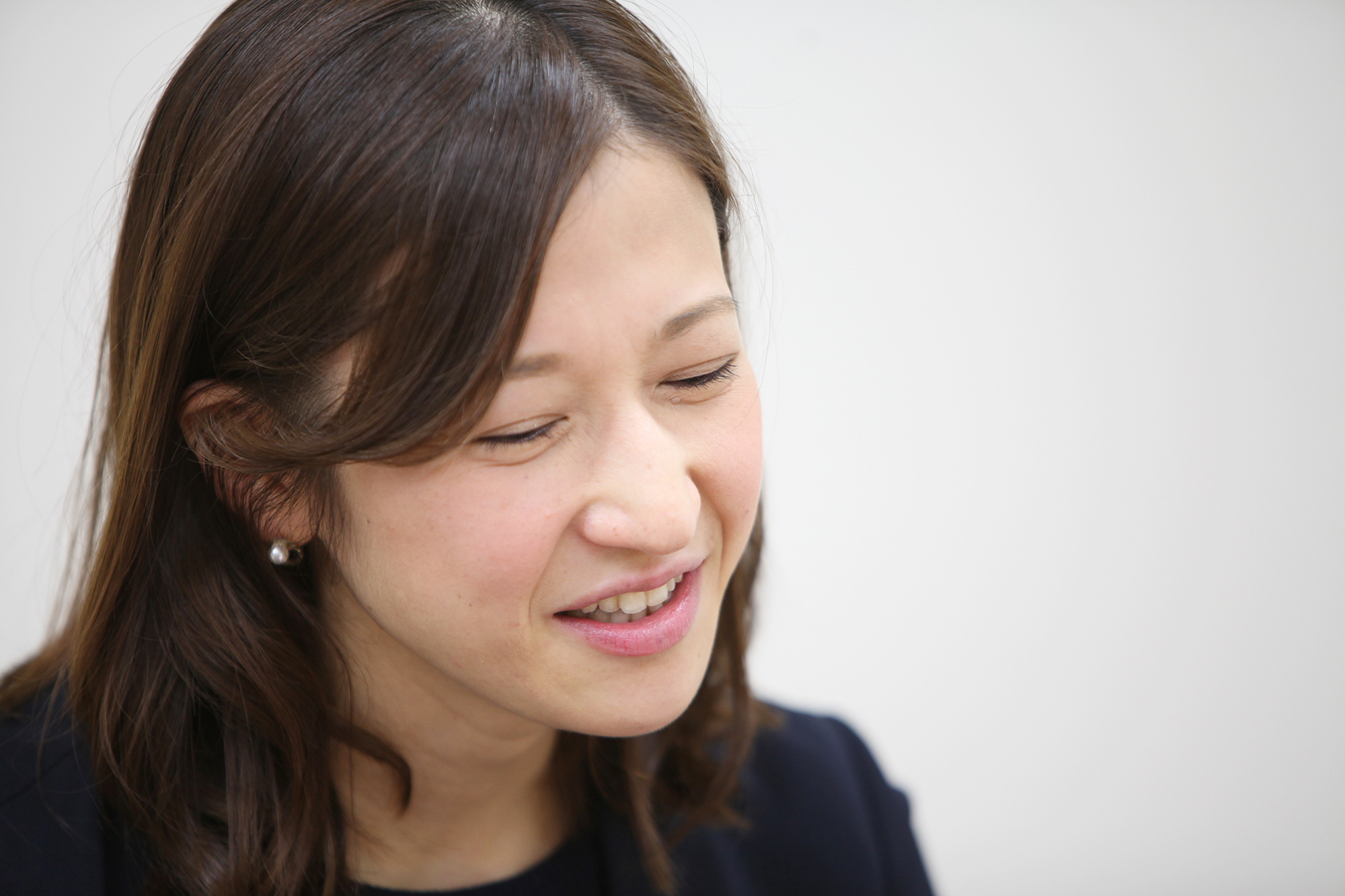 Cervical cancer: an unexpected turn after getting married & trying for pregnancy
― So you were committed to your challenging but fulfilling job. Could you tell us when exactly you found out about your cervical cancer?
I was married in September 2013, and our wedding ceremony was in February in the following year. Then we moved to Koto City.
Right around that time, Showa University Koto Toyosu Hospital opened its prenatal center. And I got a job there from March. Our place was close to the hospital, plus being a university hospital it had many career options, and I thought it could be easy to continue working even when we had children in the future.
I was diagnosed with cervical cancer in December of that year, just under a year after I got married and started my new job. I was 28.
― How did you find out?
We were hoping to get pregnant after we got married, so we were trying the rhythm method, but I noticed that I had some bleeding after intercourse. I didn't think that I had anything to worry about because I had a gynecological checkup every two years and there were never any issues. However, abnormal vaginal bleeding was not something that I wanted to ignore. So I decided to go see the gynecologist.
I then received a phone call from that hospital during my working hours.
Through my profession, I knew that something was very wrong when I got a call directly from the hospital. I was terrified. My heart was racing and my hands were shaking when I called them back.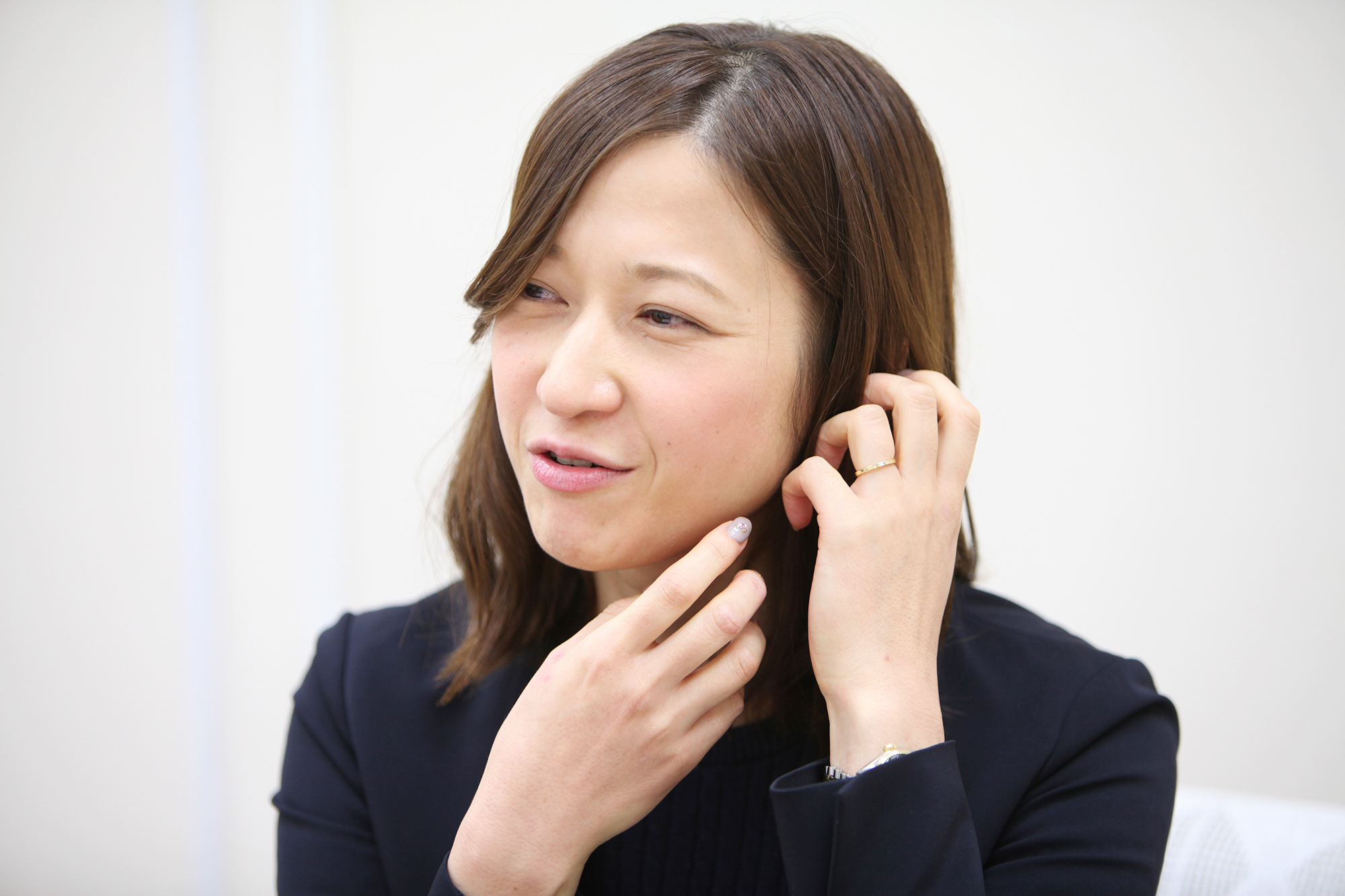 I was told, just as I feared, that some cancer cells were detected and that I should go see a doctor in a bigger hospital.
I couldn't believe that I had cancer. . Above all, it was most shocking that the cancer cells were in my uterus. Meaning that I might not be able to have children. The information was too big to comprehend. I remember calling my sister, being utterly confused and sobbing.
To my husband… I couldn't tell him right away. I was intentionally vague and just told him that I need to do some more tests. I was meaning to tell him in detail once I had a final diagnosis, but he was very concerned and asking me if I was okay. I pretended to be strong and calm, saying everything would be fine.

I consulted with the director of the center where I was working, then had a CT and blood sample taken. They also prepared a referral form for me.
After a specialized examination of the cancer cells, they found out that it was Glassy cell carcinoma of the cervix. It is a very rare type of cervical cancer, accounting for only 1.3% of the total number of cancer in the cervix.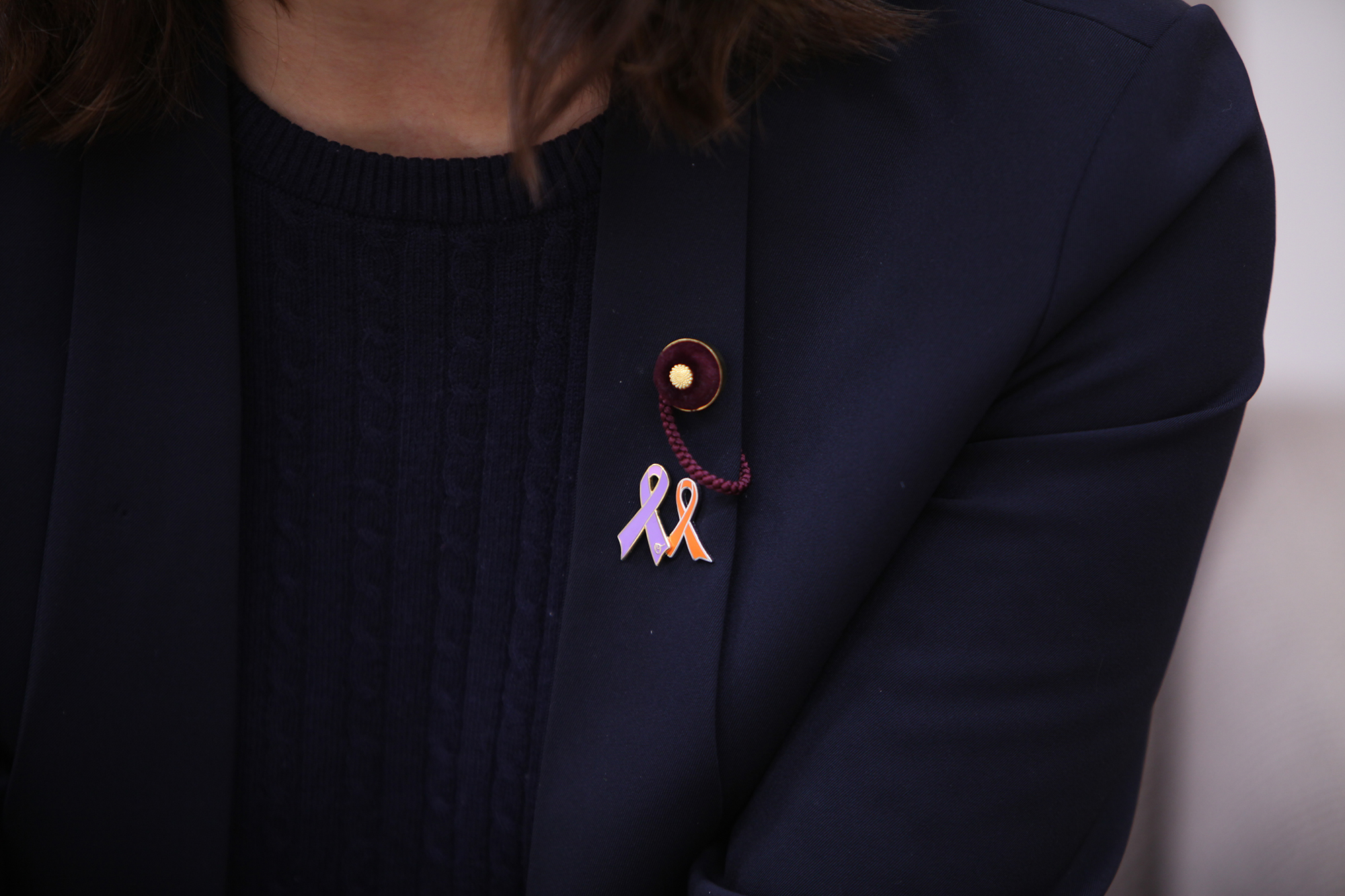 ---
Devoting to cancer treatment, not wanting to give up on having a child
  "Please let me keep my uterus, I want to give birth to a child"
― It must have been an incredible shock for you… How did you feel when you received the final diagnosis?
All I could think of was to find a way to keep my uterus. As the CT exam showed, I was already in stage 1B1 of the cervical cancer, which meant that there was no way to preserve my uterus and ovaries. My doctor told me that they had to do the operation to see if there was a chance to preserve my uterus. That meant, that it was possible that they would have to take it all out, and I would find out when I woke up from anesthesia.
If I do have a chance to keep my uterus, would I choose to keep it for the sake of holding on to the possibility of having a child? Or would I choose to take it out to eliminate the risk of recurrence or spread of cancer?
I explained the situation to my husband. His first reaction was to tell me to take my uterus out and give up having children. For him, my life was the priority. I am certain that he was terrified of losing me. So were my parents and my sisters.
I also asked my operating surgeon what advice they would give, if it were their family in my position. "If it were my family, I would persuade you to remove it all." – this was the answer…
― Oh my goodness… would the risk of recurrence become higher if you keep the uterus?
According to some research papers, there is a procedure called "trachelectomy" which is still in the research stage and would be the only way to preserve the uterus for women who require a hysterectomy and without a higher risk of recurrence. My family, however, prioritised my life itself, and told me that if there was even any risk, to remove my uterus. I could understand them, of course.
But even then, I just couldn't remove my uterus and give up on having a child.
I had been in the same room, supporting mothers and babies, when they went through birth. As a midwife, I knew perfectly well that the birth of a new life is a miracle and it should not be taken for granted. But even so, I was imagining and dreaming about the birth of my child, and waiting dearly for that day to come.
I wanted to experience pregnancy and childbirth.
I might have been selfish, but I told my family and doctor that if there was any chance to preserve my uterus, I would like to go for it.
― So you went through the surgery. And the doctors could use the method you mentioned to preserve your uterus, correct?
Yes. I was so relieved when I found out after the surgery that it went successfully. During the whole time from the moment I was carried into the operating room, underwent general anesthesia and woke up, I wasn't sure if my uterus remained.
But I needed to start the chemotherapy right away. It was once every 3 weeks, 6 courses in total.
― I see… everything happed so quickly for you. Did you think about taking other steps in parallel to preserve fertility, such as freezing fertilized eggs?
My doctor strongly suggested starting the anticancer treatment as soon as possible, considering my condition and the malignancy of the cancer.
Being a midwife, I had basic knowledge of that, but the doctor's sense of urgency made me decide to follow the judgment. Since I was lucky enough to keep my uterus, I was determined to proceed with the treatment to conquer the cancer.
  Chemotherapy: "It was harder than being diagnosed with cancer"
― Right after the surgery came the chemotherapy. One challenge after another…it must have been a huge burden on both your mind and body.
For me, the chemotherapy was harder than being diagnosed with the cancer. My white blood cell count was declining and my hair was falling out.
Right around the time when it was starting to happen, I was invited to a best friend's wedding in my home town, Fukuoka. She asked me to give a speech. She was concerned about my physical condition and was very empathetic, but I felt bad to have to attend the ceremony, a very important day for a person so dear to me, in such a terrible condition.
I managed to sit through the wedding, came home to my parents' place, and realized that a large chunk of my hair fell out. I couldn't help but howl…
The surgery was successful and I got to keep my uterus. Just when I thought I could relax a little, came another challenge.
I think I have never cried like that in my whole life. My eyes were swollen from crying so hard. My father, who saw me like that for the first time, just stood there absolutely helpless, not knowing how on earth he should console me.
― I cannot even imagine how hard it was. How did your family support you through your fight with cancer?
My husband became my trustworthy partner, whom I can share my pain with, who I can rely on and be open to. He massaged my swollen feet, and also helped out with all kinds of chores around the house. Most importantly, he was understandable and compassionate. I am very thankful for that.
My family in Fukuoka offered me every support they could. My mother was beside me for my surgery and my sister came to support me during my chemotherapy. Just the fact that they were there with me gave me so much strength.
― You weren't hospitalized for your treatment, but you were going to the hospital regularly. And during the whole time, you were still working, right?
I took sick leave for about a month, including the time of the surgery. I knew that my condition wouldl stabilize about a week after the beginning of my chemotherapy. So I picked a convenient timing for me and went back to work.
The hospital where I was working was considerate enough to keep me from attending births, and offered me work which wasn't physically demanding. I wanted to work as long as I could. The people at my workplace were very understanding of my condition, which meant a lot to me.
After finishing all the treatment courses, I set my health as the number one priority and asked for a transfer from a ward where I had night shifts to an outpatient department. There I didn't have to work overtime.
― How did you feel when you finished your chemotherapy?
It was a long-term treatment with 6 courses in total. Physically, it was very tough. But the emerging sense of hope to have a child as soon as I could was stronger.
On one hand, I was able to keep my uterus, but on the other hand, it was still possible for the cancer to relapse. If that happened, there would be no choice for me but to remove my uterus completely. I was impatient to give birth to a child while I still could.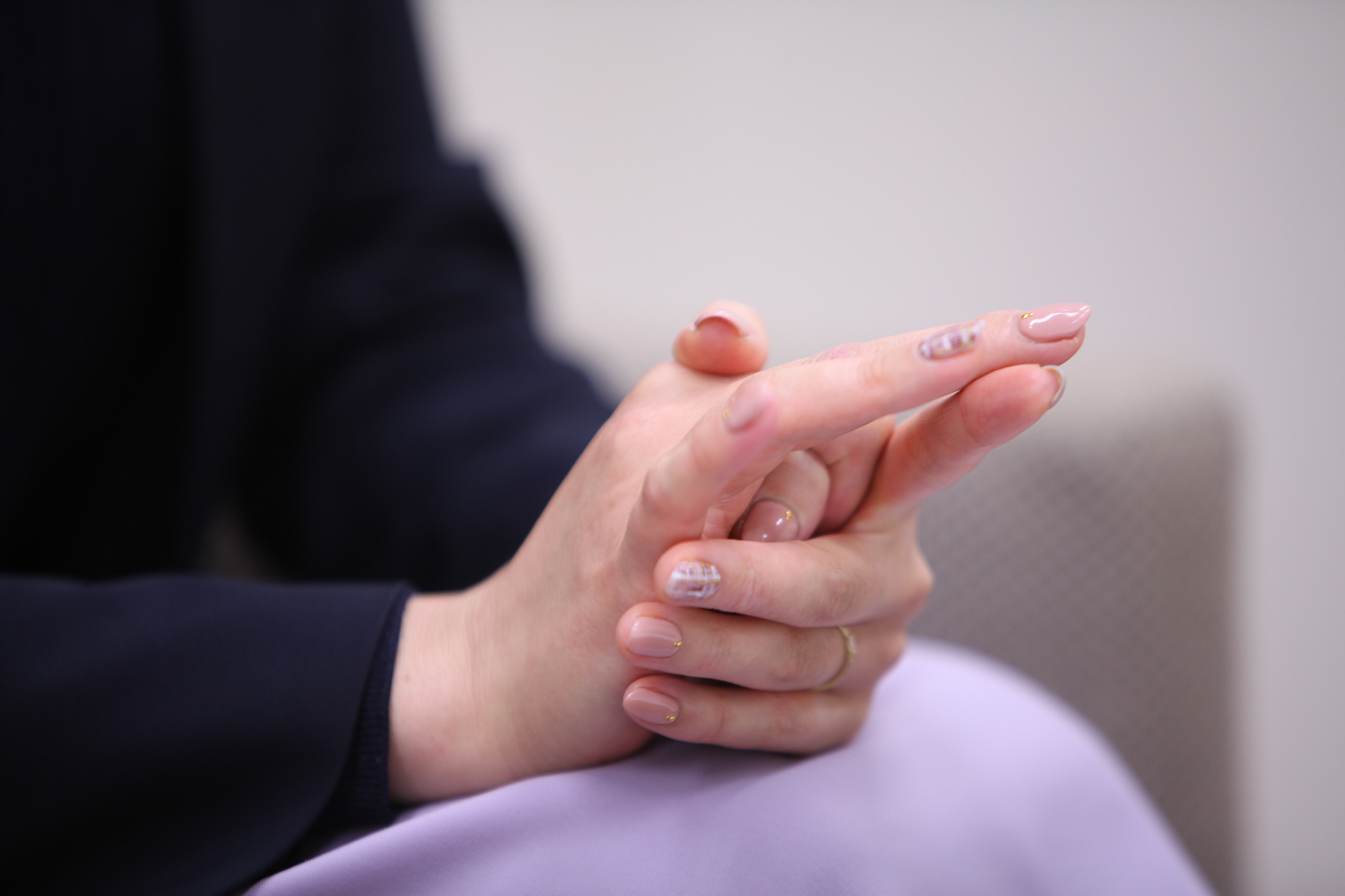 ---
"Your presence can support other women"
  n encouragement from a chief nurse, a mantra to push forward and balance work & fertility treatment
― With that burning desire, you started fertility treatment right after the cancer treatment.
Yes, that's right. My period returned 3 months after the end of the chemotherapy, so I rushed to a fertility clinic. As a result of the examination, they found out that my level of AMH, which indicates the so-called "ovarian age" (ovarian reserve), was only 0.01ng/ml.
The doctor told me that I might go into menopause in 6 months. I regretted not freezing my fertilized eggs before the chemotherapy.
The shock I had was enormous. I cried in my husband's arms that day. He listened to me and responded open-heartedly to my emotions. We agreed that we would do everything we could to become pregnant and have a baby.
We only had a limited amount of time, 6 months. From then we decided to start the journey of fertility treatment with the help of advanced reproductive technology, which was the combination of IVF and intracytoplasmic sperm injection.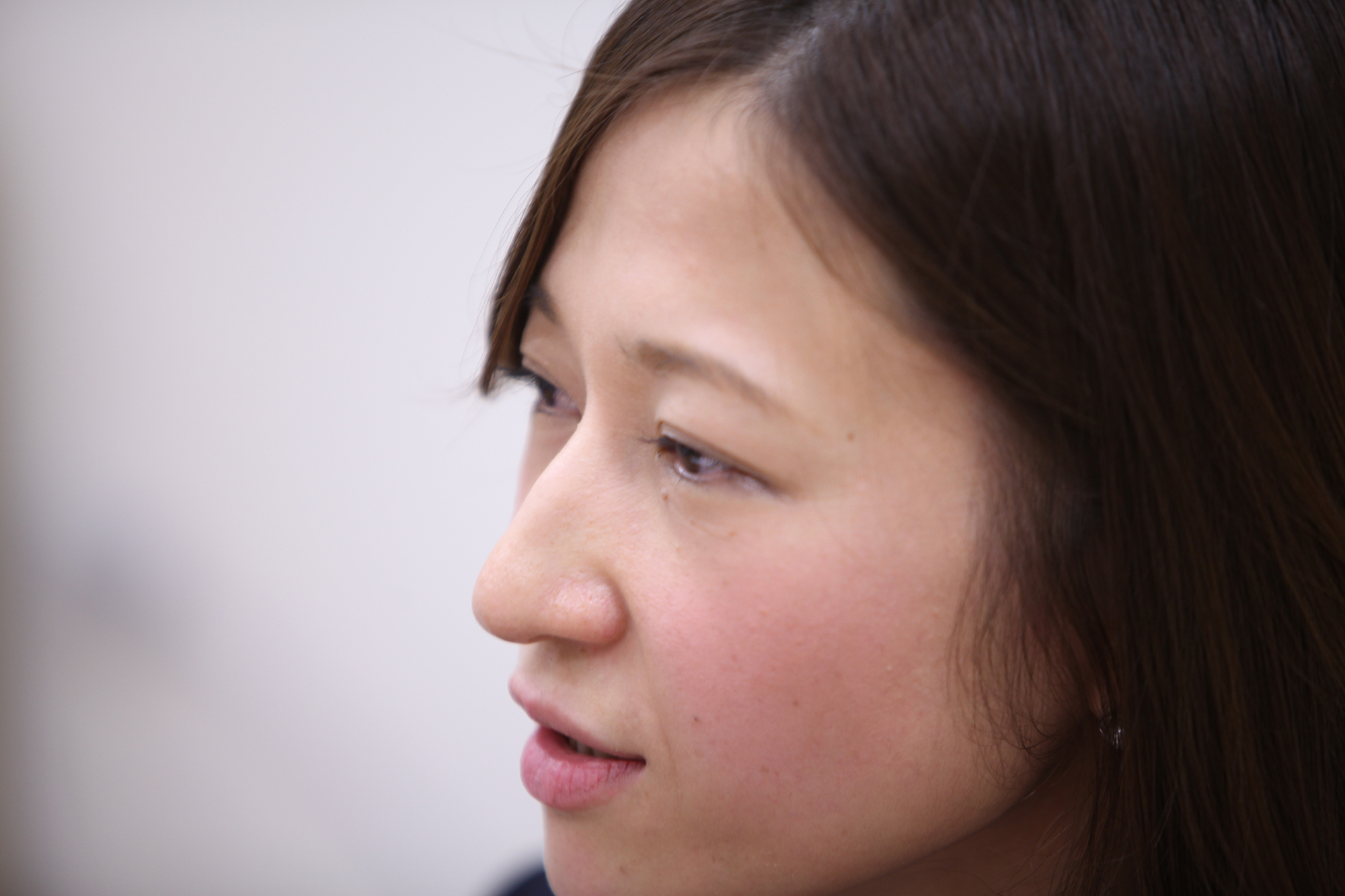 ― First chemotherapy, then fertility treatment and you were working all the while. That must have been so hard…
Because I only had 6 months, I thought that I should stop working and concentrate only on the fertility treatment. I went to talk to the chief nurse at that time.
She told me: "There will be younger staff in the future, who get married and wish to have children, only to find out that they need the support of fertility treatments. For them to have someone like you as a role model, who fought through the treatment and worked at the same time, will encourage them. We will support you through this, so why don't you keep your job and give it a try? "
― Wow! I am so touched…What a great working environment you had.
To be honest, I had actually already made up my mind to quit my job. I had taken some time off from work during my cancer treatment already, so I didn't want to burden my colleagues further. But what the chief nurse told me was a huge encouragement for me.
Thanks to her, I decided to do my best with both work and the treatment.
From there, I decided to look for a fertility clinic that would allow me to go after work and let me do self-injections, and would require only minimum visits. I was looking for a specialized clinic, so that I could positively balance myself through the time to come.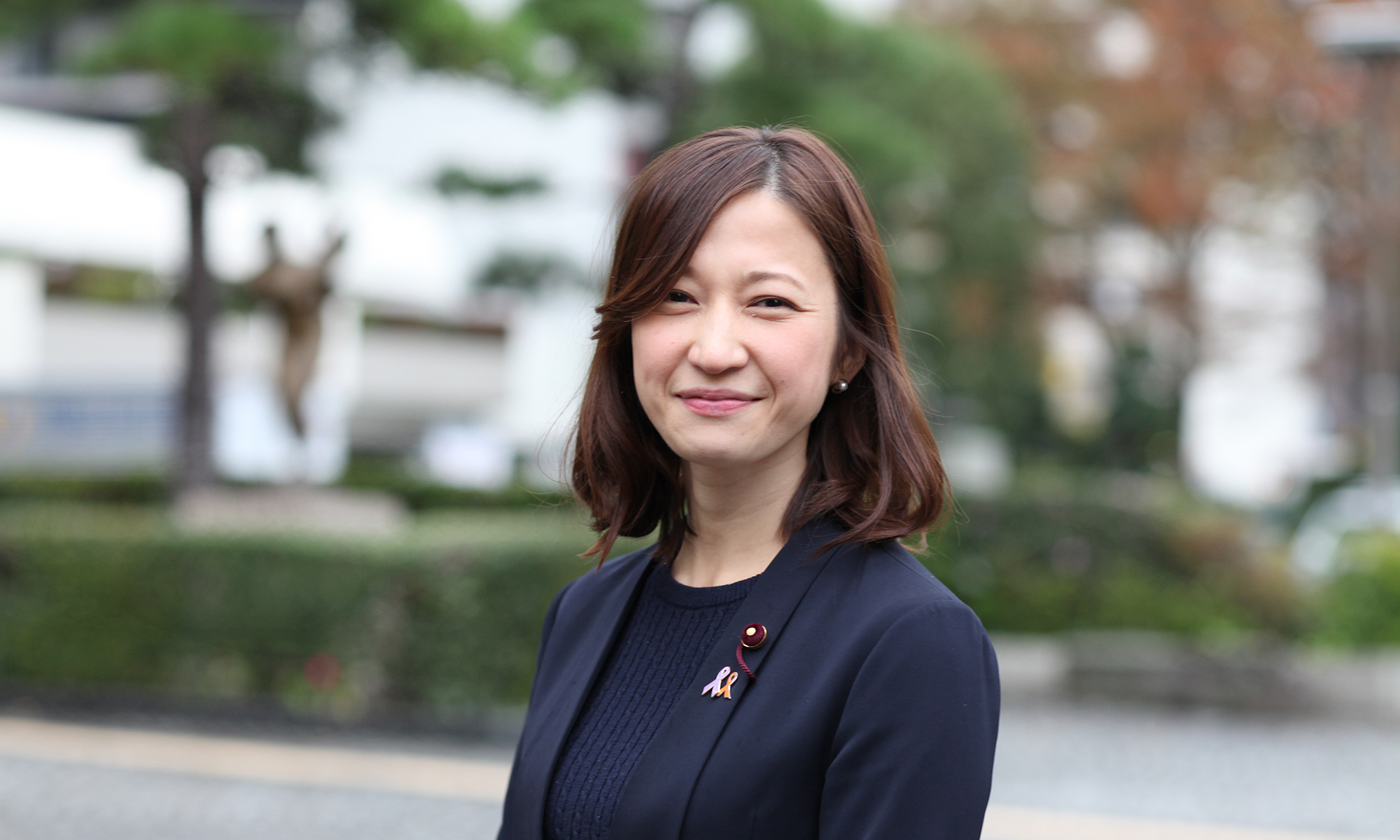 Interview&article/Rurika Toku, Photos/Chihiro Netsu, Translate/Yoko Gross, Interview room offered/Koto City Assembly, and Special thanks/Meri Joyce
---
What kept Natsumi Sakai going forward was her one wish: to preserve her uterus and have a child. She found out right after her marriage that she had cervical cancer, then went through the following surgery and chemotherapy. In <PART1>, we talked about her 12 years of experience as a midwife & nurse, where she faced the painful reality of pregnancies and childbirth without a a happy ending. She also shared with us her fight with cancer and how she made the difficult decision to keep her uterus. In the following <PART2>, we will walk through her long, long journey of fertility treatment, miscarriage and threatened premature labor, and juggling all these while working. What was "the decision" she came to after the successful delivery of her baby? What made her decide to enter the world of politics?
For <PART2>, please click here!